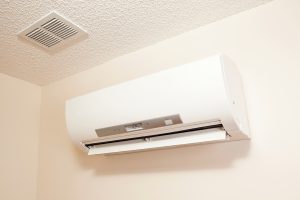 When you are looking for a new air conditioning system to cool down your house, or as part of planning for a new house, you may notice that one of your choices is a "ductless mini split heat pump," which offers ductless cooling. These systems have enjoyed years of popularity in Japan and Europe, and now they are starting to show up in more homes in the US because of the many advantages they offer. No longer needing to use ducts eliminates a major cause of energy waste in an HVAC system, removes a source of air pollutants, and allows a homeowner to control the temperature in different parts of the house without affecting the other parts.
But how does a ductless AC actually do all this—without ducts? We'll explain.
The Basics of Ductless Mini Split Heat Pumps
Before we go into more details, we want to point out that most ductless systems are heat pumps. That means they work as both cooling and heating systems. So when we mention below "ductless cooling," we also mean ductless heating as well—you get both when you have a ductless mini split installed.
As to how these things work: they're similar to the standard split system AC or heat pump in that they circulate refrigerant between two sets of coils—one indoors and one outdoors—to move heat from one place to another. In cooling mode, cold refrigerant is evaporated in an indoor unit to absorb heat, then is released to the outside through condensing in the outdoor unit.
What's different about the two is that a standard split system only uses one indoor unit, which contains a large coil and blower fan, and connects to the duct network to distribute the conditioned air. With a ductless AC, there are multiple smaller indoor units. These small air handlers are installed high up on exterior walls (often over a door or window) and connect to the outdoor unit through the wall with refrigerant, condensate, and power lines. Each air handler contains a refrigerant coil and blower fan, so when they come on they direct the conditioned air straight into the living spaces. There's no need to have ducts to transport the air.
The standard ductless system has four indoor air handlers for each outdoor unit, although there are some more powerful models that can use eight air handlers. For more cooling power, installers can add additional outdoor units.
Do Ductless Mini Splits Make Sense for You?
You may not be sure if installing ductless air conditioning in Westfield, NJ is appropriate for your situation. Even with all the great advantages they offer, ductless systems aren't good matches for homes that already have extensive ducts. But they're great for older homes that have never been able to enjoy air conditioning except with inefficient (and ugly) window ACs. They're also good matches for new home construction, remodeling, and add-on rooms.
To find out what your best cooling options are, work with our team of air conditioning and heating specialists. We install top brand ductless mini split heat pumps.