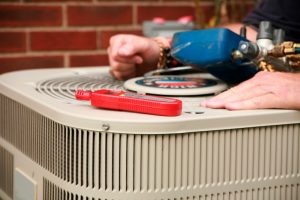 Now that we're in the late summer (August already!), air conditioners are entering into a higher risk zone. At this point, a home's air conditioner has been working steadily for at least two months, and that means it will have picked up a good deal of wear and tear. If the air conditioner had its regular maintenance inspection and tune-up during the spring, it should still be able to make it through the rest of the summer in good condition.
But nothing is certain, and if the AC didn't have regular maintenance, the likelihood of something going wrong is much higher. (Make sure you sign up for our Comfort Plan so you'll always have your HVAC system maintained for both hot and cold weather.)
A few of the more common late summer repairs for ACs
The stress of a summer can lead to specific types of breakdowns in an air conditioner. Here are repairs you may need to call us for:
Capacitor replacements: The capacitors are critical electrical components in an air conditioner. They send the voltage that starts the motors and then keeps them running. But they are susceptible to intense heat, which reduces their ability to hold an electrical charge. If you notice your air conditioner is hard starting each time the compressor kicks on or you hear odd clicking sounds from the cabinets, you may have failed or failing capacitors that must be replaced.
Motor replacements: Motors handle most of the mechanical work in an AC, since they power the indoor and outdoor fans as well as the compressor. Regular maintenance service checks on the motors to see that they're clean and lubricated. But stress over the summer can lead to motors running hot and eventually burning out. If one of the fans stops working or the compressor struggles to start, you may need to have one of the motors replaced.
Sealing refrigerant leaks: This is an issue that's particularly common with air conditioners that are more than five years in service. This is the point where the copper refrigerant lines inside the AC may begin to corrode because of exposure to formaldehyde in the air. (Unfortunately, this is a frequent occurrence in many homes and hard to eliminate.) Any drop in refrigerant will affect the air conditioner's performance as it limits how much heat it can draw from the air. But the refrigerant loss also places the compressor in jeopardy of overheating and burning out, a situation that usually requires an expensive replacement. If you notice a drop in cooling capacity from the AC, you hear hissing noises from it or see ice developing on the evaporator coil, the system may be losing refrigerant. Professionals will locate the leaks, seal them, and then recharge the lost refrigerant.
You can reach us any time of the day or night when you need air conditioning services in Summit, NJ or elsewhere in Central and Northern New Jersey. Our NATE-certified technicians will see that your AC gets back to work and keeps you cool for the rest of the summer.
Air Creations, Inc. offers 24/7 emergency service. Since 1987, "We Do It Right!"