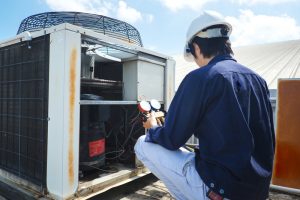 "Wait," you're saying, "what's a packaged HVAC unit? Is that like a window AC?"
Well, sort of. A packaged HVAC unit is a cooling system or heat pump where all the components are contained in a single cabinet. The compressor, the evaporator coil, the condensing coil, the fans and motors—the works. The opposite of a packaged unit is a split system or a mini split system, where there are separate indoor and outdoor units. For example, the most common type of central AC found in homes is a split system with an outdoor condenser and an indoor evaporator with an air handler that sends the cooled air into the ducts.
However, the type of packaged unit we're talking about in this post isn't a small window air conditioner. We don't recommend these for homes. We're talking about an option for central air conditioning that doesn't require using an indoor unit: the entire air conditioning system (or heat pump) is placed outside your house and connected into the ventilation system. This is the most common way to cool businesses, but it can work for homes as well. Here are some reasons you might want a packaged HVAC unit installed for your home:
Space saving: The standard split-system air conditioner needs a large indoor unit with an evaporator coil and blower fan. If you don't have the space for your home, or you'd like to reclaim some space, a packaged unit can help you. Maybe you can convert that basement into a usable space like an office or game room now that the AC unit is out of the way.
Quiet: Air conditioning manufacturers are always searching for new ways to lower the noise pollution from their ACs. But one of the best ways is simply to have the air conditioner placed outside. The only sound you'll hear from a packaged HVAC unit is the movement of air through the ventilation ducts. All the fans are outdoors.
Easy maintenance and repairs: We don't mean it's easier for you to repair the system—like all refrigeration systems, you only want trained professionals to handle repair and maintenance work for a packaged HVAC system. However, the work is faster and easier for professionals to do when all the components are in the same place. There's no need to even come into your house. The whole process is streamlined.
More cooling power for larger spaces: Packaged units tend to be larger and more powerful than split systems, with greater cooling tonnage. If you have a spacious home that's hard to cool down, going with a larger packaged unit may be ideal.
Packaged HVAC units are available in air conditioning-only versions as well as heat pumps. If you think that you may want a packaged system, whether as a replacement in your home or as part of the planning to build a new home, get in touch with our professionals to see if it's the best choice. We're an HVAC contractor in Mountainside, NJ who works with many types of cooling systems, including packaged units, both residential and commercial.