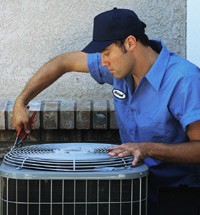 If there are any problems with your air conditioning, we know it's tempting to want to repair your air conditioning yourself. It seems like it would save you time or money and a quick Google search will lead you to countless, step-by-step articles telling you how to perform the repair.
Don't lull yourself into a false sense of security concerning repairs. Your air conditioning unit is a complex piece of machinery that needs the eye of an expert. Our technicians at Air Creations, Inc. perform the best repairs on Springfield, NJ air conditioning and we can get your unit in top shape too.
Why You Shouldn't Try DIY
You can trust us when we say that DIY AC repairs really should never cross your mind. You know us, though—we like to give you more information than that to work with! So keep the following in mind, should DIY repairs ever enter your mind.
Safety
You might not think of air conditioning repair as a high-risk operation, but it certainly can be without the right knowledge. Your air conditioning unit has an extensive amount of mechanisms, components, and wiring that a knowledgeable service technician will have the right tools to handle. Your standard toolkit at home is unequipped for the technology in your air conditioning system. Hazards like electoral voltages, combustion fumes, and flammable pressurized natural gas are things that only an HVAC professional is qualified to handle.
Cost
The leading reason that homeowners try to take their air conditioning repairs into their own hands is the cost of repairs. The price of repairs can be costly, but it is more likely that you'll save money if you have a professional service your air conditioning system. Trying to perform repairs on your own will more than likely lead to mistakes or blunders that will cause your air conditioner to function inefficiently or worsen the issues you already have. Trying to remedy problems yourself costs more to fix in the end. Get your repairs done right the first time with the help of a professional.
Warranty
Almost all HVAC systems come with a long-lasting warranty. These typically require the owner to prove a professional HVAC contractor performed any repairs or maintenance to remain eligible for any future warranty service. One of our reliable technicians can determine if your system is still under warranty and help you avoid voiding the agreement. Don't let hastiness void your warranty on an expensive investing like an air conditioning unit.
Choose Air Creations, Inc. for Your AC Needs
Trying to perform the work of an experienced service technician as an amateur is always a bad idea. DIY is an enticing alternative now more than ever because the internet is a vast resource full of videos, tutorials, and articles detailing the process. However, wikiHow and YouTube are not certified technicians. Avoid the hazards and get quality work by hiring one of our amazing Air Creations, Inc. employees. We serve all over Central and Northern New Jersey and would be happy to serve you too.