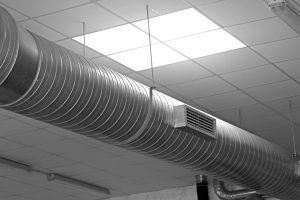 At Air Creations, Inc., we're proud to offer assistance to businesses in the area as well as homes. We handle heating, air conditioning, and ventilation for small businesses (ones that need HVAC systems 25 tons and under). Today, we want to focus on the ventilation part of our service, because proper ventilation and air balancing in a business is something that's easy to overlook. Here in New Jersey, with cold winters and warm summers, business owners tend to focus on their heating and air conditioning systems. That's natural, and of course it's vital that these comfort systems remain in top shape. But poor ventilation can lead to serious problems.
How Good Ventilation Helps Your Business
We'll start with a fact that often startles people: indoor air quality is a major health threat in the country, and according to the U.S. Environmental Protection Agency, the air quality inside buildings is often 3 to 4 times worse than the air outside. This goes against what most people think air pollution is like—but it's true. The heavy insulation on modern buildings allows for the rapid build-up of contaminants inside without a chance to escape.
Proper ventilation in your business is a key part of managing its indoor air quality. Cleaner air not only prevents a variety of long-term illnesses, but it stops numerous short-term troubles that affect your employees. Without the ventilation necessary to allow the building to "breathe," the employees in your work space will start to suffer from headaches, nausea, and complications that will cut down on productivity.
Ventilation helps your business in a number of other ways. It helps to prevent issues with mold and mildew growth that can occur from stagnant and humid air. It helps to remove exhaust from various processes that your business may use. And it ensures that the heating and air conditioning systems work at their most energy efficient, without unnecessary waste due to a poorly designed ventilation network.
How Our Commercial HVAC Team Can Help
We offer a number of indoor air quality and ventilation services for light commercial HVAC. One of the best installations we provide for ventilation systems that will help a building exhaust stale and contaminant-filled air is the positive air system. These are commercial versions of the energy recovery ventilators that many homes have. The positive air system exhausts the indoor air while drawing in fresh outdoor air, but it uses the indoor air to pre-heat or pre-cool the incoming air. The inside of the building receives fresh air without putting stress on either the AC or the heater.
We also install other types of exhaust systems, such as the specialized ones that commercial kitchens require to ventilate fumes, and many types of roof fans and exhaust fans. If you have specific indoor air quality issues, we can install commercial air purifiers, filters, humidifiers, dehumidifiers, and more. Whatever is necessary for a comfortable and safe work environment, you can rely on us to provide it.
For all your needs for light commercial HVAC services and commercial ventilation in Cranford, NJ and the surrounding areas, we're the people to call!
Air Creations, Inc. "We Do It Right!" since 1987.