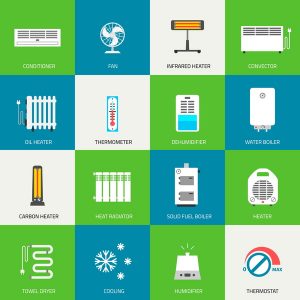 It is officially winter time in The Oranges! It's understandable that you might be worried about your heating costs. Nobody should have to pay more than they need to, especially when there are so many things that can be done to save money. Of course, if you have questions specific to your home and needs, it is best to speak to a professional. Air Creations, Inc. provides heating in West Orange, NJ.
If you are looking to save extra dollars this winter, check out this list of ways to save money on your heating bill this winter!
Heat the Rooms You Use
Are there rooms that you almost never find yourself in? Don't waste money heating them if you'll never get to enjoy it. Adding a zone control system allows you to maintain more moderate temperatures in lesser-used rooms. A zone control system would be great for guest rooms or storage areas. Lowering the heat in these areas is one way to save money this season. Make sure that the vents in these rooms are properly sealed in order to maximize efficiency. The best way to ensure vents are properly sealed is to have a heating expert take a look at them.
Improve Ductwork
The effectiveness of your heating system's air ducts is important for your system's efficiency. Poor sealing, breaches in the ductwork, and poorly installed ductwork can let heat out of the system, thus reducing efficiency. When your system becomes less efficient, you begin spending more money on wasted fuel. Contact a local technician to ensure your duct system is properly sealed.
Use Your Thermostat Correctly
Turning the temperature in your home up, even ever so slightly, more than you need can lead to a big waste in energy and fuel. Yes, some days are going to be quite cold, and we want you to be comfortable, but try your best not to turn your heat up too high.
Clean System and Clean Filters
Scheduling a regular cleaning of your system can benefit you greatly. When dirt and particles build up in your system or on your filters, airflow becomes restricted, and your system must work harder to circulate air through your home. This leads to a huge decline in efficiency. A trained HVAC technician can clean and replace filters properly.
Regular Maintenance
Regular maintenance is the best way to ensure that your heating system is working efficiently and effectively. In fact, maintenance will extend the lifespan of your system! By being proactive, you can save a lot of money on repair and/or replacement costs. A technician will inspect your system for any signs of improper function and fix it before significant damage occurs.
We recommend utilizing these helpful hints this winter season. Here at Air Creations, Inc., we know that we could all use some ways to save an extra buck. We offer heating installation, repair, maintenance, and replacement services. We have decades of experience under our belts, and we can help you with your home's specific needs.  We also offer ComfortPlus heating maintenance plans for your convenience, so don't hesitate to contact us this winter!