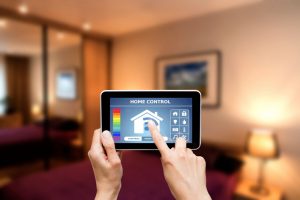 As a homeowner, you know that you'll have to replace your heating system at least once in your lifetime. It's just to be expected. While these systems have an expected lifespan of 10-20 years, you can't expect this technology to be able to last you a lifetime. But do you extend this mentality to your thermostat? Most homeowners don't, but you should, this is technology that needs to be updated too. If you're still using the same thermostat that you've had since you moved into your current home, it's highly likely that you need an upgrade. If you need a new thermostat in Westfield, NJ then contact our team. We're always updated on the latest technology in all things HVAC but specifically when it comes to thermostats. In addition to this, we understand the specific needs of New Jersey homeowners because we're a locally owned and operated business.
If You Have a Manual Thermostat
A "manual" thermostat is an older thermostat that uses a dial or a switch to control the temperature of your home. If you have a manual thermostat in your home, you're definitely in need of an upgrade. This type of thermostat is incredibly outdated, and it can be very difficult to read. These types of thermostats also lack any automatic programming settings, so you can't set a schedule to heat your home at your convenience.
If you still have a manual thermostat in your home, you're not getting the most from your heating system and, in fact, you're probably wasting money because of inefficiency.
If You Have a Digital Thermostat
If you have a digital thermostat, it probably is programmable but you're still lacking the necessary tools to achieve the highest possible efficiency from your heater. Digital thermostats are great because they're more precise in setting, but even a programmable setting isn't ideal because it forces you to work around the settings. It doesn't leave any room for error at all.
For example, let's say you have your thermostat pre-programmed to heat while you're up getting ready in the morning from 7 a.m. to 8 a.m. and have it set to come back on again when shortly before you arrive home in the evening at 5:45 p.m. If you have a day where you decide to step out with coworkers after work, or maybe you running errands takes longer than expected, you'll run your system when you don't need to and waste money and energy. A smart thermostat system is a solution to this problem.
Upgrading to a Smart Thermostat
The best thing to do if you want to boost your heating power and even lower your monthly heating bills, you should upgrade your thermostat system. A smart thermostat system is great because it has WiFi capabilities that allow you to program your thermostat from anywhere, so your home will always be at the perfect temperature.
Another great feature is the "smart" capabilities. A smart thermostat learns how you like to heat your home over time so that it starts to anticipate your needs. Some smart thermostats even highlight opportunities for you to save money. Smart thermostats work for you so don't let your outdated thermostat make your heater work harder—upgrade today.