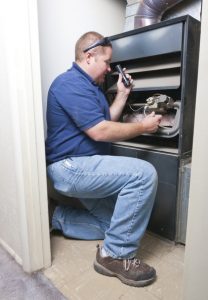 It's amazing that it's already October and the stores have their Halloween displays put up. You may be planning a costume, or maybe planning a party. But there's other planning we recommend you do in October.
Fall is the season when residential heating systems need special attention from HVAC professionals to ensure they are prepared for the coming winter. If you haven't scheduled your fall heating maintenance yet, right now is the ideal time to contact us and get on the schedule.
Yes, This Is Important
We understand that you're probably busy during the fall, but a maintenance inspection and tune-up should be high on your list of to-dos. This isn't a luxury for a heating system—it's a necessity, for a number of reasons.
Safety: If you use a gas-powered furnace or boiler to heat your home (and the great majority of homes in New Jersey do), then it's essential to have a licensed professional inspect it before it starts its work for the season. Current gas-fired systems are designed with safety as the top priority, but maintenance neglect increases the chance of toxic gas leaks or combustion hazards. To protect your house and family, have the heating system checked out so any necessary repairs can be completed.
Dependability: Think of maintenance as an insurance policy for your heating system. Or an insurance policy against cold weather. The chance of a furnace or other heater breaking down during the stress from a cold day or night is much lower if the heating system has been tuned-up in fall. You can avoid having to make an emergency repair call.
Efficiency: A heating system that's cleaned, adjusted, and with any repairs done will work at greater energy efficiency than one that's neglected. Each year without maintenance will see an increase in the cost to run the system, so make sure you aren't paying more to heat your home than you should be.
Longevity: You want the most years of effective performance possible from your heating system. But you'll likely end up having to replace it years early if it isn't professionally maintained. Investing in annual inspections and tune-ups is investing in a lengthy service life for your household's heating.
Our Maintenance Program: The Comfort Plan
It isn't difficult to arrange for your annual heating maintenance—and have your future air conditioning maintenance taken care of as well. All you have to do is sign up for our Air Creations, Inc. Comfort Plan. Each spring and fall, one of our technicians will come to your home and provide your cooling or heating system with a comprehensive inspection and tune-up. We offer highly personalized, first-response scheduling. As part of the comfort plan, you have priority in the work queue. You'll also receive 20% off all billable repairs, a free diagnostic, and free quotes on upgrades and services.
Get in touch with us today to find out more details of the Comfort Plan, and then we'll have you on the schedule for fall maintenance for your home heating in Summit, NJ or elsewhere in Central and Northern New Jersey.
Air Creations, Inc.—"We Do It Right!" Since 1987.