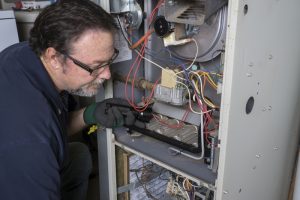 "I'm not gonna make it … You go on, leave me behind!"
You've probably heard dramatic words like these spoken in many movies and TV shows. What do the heroes usually do in such extreme cases? They pick up their friend and carry them onward, refusing to let them expire.
If, however, it's your home furnace that's telling you "I'm not gonna make it to the end of winter … You go on without me!", then you should probably just say, "Okay!" and have a new furnace put in. You don't have an audience watching who'll be disappointed because of an emotional attachment to the furnace.
How to Know When You're Furnace Is Not Going to Make It
Of course, your furnace can't actually say anything like this. But it will show off signs that it's struggling and on the verge of a complete system breakdown in late winter. Pay attention to these warnings that your furnace has moved past the fix-it stage and is in the replace-it stage.
It's really, really old
This isn't so much a warning sign as a piece of information you need to know about the furnace. A natural gas furnace can last sometimes up to 20 years, but 15 years is more a common end date. If your furnace is older than 15 years and has shown other signs of decline (like those below), we recommend replacing it soon—before you spend more money on repairs for a system that's about to die. And if the furnace is over 20 years old—it's definitely time to replace it.
It's making a terrible racket
Do you have to apologize to guests in your home because the furnace is making so much noise when it runs that it's disruptive? That's a huge red flag. The furnace's parts are all wearing down and it's probably close to a full shutdown.
It's caused the carbon monoxide detectors in your home to go off
(You do have CO detectors, by the way? If you use gas in your home, you must have these detectors.) A furnace that puts your family in jeopardy because of a gas leak isn't a furnace you want to risk keeping around, especially if it's old. After the CO emergency is past, consult with an HVAC technician about getting a new system.
It costs far more to run than before
When you receive your monthly gas bill, are you surprised at how much more you're paying? A gas furnace near the end of its service life rapidly begins to lose its energy efficiency as parts decline and even corrode. For an older furnace, it's not worth the higher price and the risk of a cold weather breakdown to keep trying to repair it.
Whether it's truly time for a new furnace, or you think you can still forge ahead with furnace repair in Summit, NJ, we're the people to call. We offer 24/7 emergency service if you do have a failed heater, but we'd love to help you before that happens by planning the best new furnace installation.
Air Creations, Inc. serves central and northern New Jersey. Since 1987, "We Do It Right!"