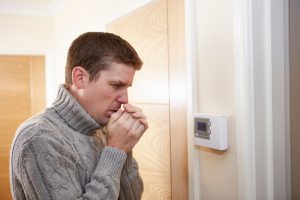 March is one of the trickiest months when it comes to figuring out the weather. The first part of the month is in winter, and the last is in spring, although it can sometimes act as if the opposite were true. This is why you always need to pay attention to your household heating system at this time of year. It's getting close to the day when you can shut down the heater for the season, but cold weather may linger for a while or even come back in a fury.
What do I need to watch for?
There are many late-season warnings that you have a heater that's running into trouble during this transition period. The heater has already handled a heavy load of work over the winter, and the stress can catch up with it. (If you arranged for regular maintenance in spring, there's much less chance of this occurring, but nothing is 100%.)
Here are some of the behaviors that can signal the need for heater service from an HVAC technician.
The house seems draftier than before: If your home simply isn't heating up as fast as it usually does, or you discover cold spots in certain rooms, it may be the fault of a heater that's declining. There are other possibilities, such as leaky ductwork or a miscalibrated thermostat. You'll want a professional to check up on the situation for you.
The heater is making odd noises: A heater that's making strange sounds you aren't used to hearing from it is telling you there's something amiss. These noises can be mechanical clanging and banging sounds, hissing and clicking, or just general noisy operation. If you've noticed it, that means it's worth checking into.
Last month's bill was a shock: "Wait, did we really use that much power last month?" If you said something like this when you looked over last month's utility bill, you may have a malfunctioning heater that's placing more demand on the system than it should.
The heater is short-cycling: Short-cycling is when a heating system becomes trapped in the start-up cycle, turning on and off rapidly over a short period of time. This is bad news for any type of heater because it drains extra power and puts immense stress on the components. There are many causes for it (check the air filter first to see if it's clogged) and it takes an HVAC professional to diagnose what's wrong and what to do to fix it.
Even if you only need your heater a bit during March and into April, it's always wise to have repairs done as they are needed. Letting a heater go into its summer hibernation with a lingering malfunction can mean a terrible hassle when you need it once again in fall.
We'll take care of your heating in Summit, NJ or wherever you live in our service area. We have NATE and EPA-certified technicians who'll get the job done fast and right.
Air Creations, Inc. serves Central and Northern New Jersey. "We Do It Right!" since 1987.