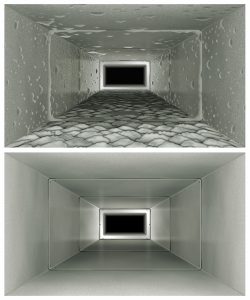 You may have heard suggestions to have the air ducts in your home cleaned, either from advice on a website (you're reading one of these now) or from a sales person offering to take on the job for a surprising small amount of money (uh, we'll get into this later).
Yes, your home's ducts do need regular cleaning. The big question is how often do you need this duct cleaning?
Duct Cleaning Frequency
You'll hear different answers for this, but from our 30 years of experience we believe duct cleaning in a house should be done every 5 to 10 years. This is provided the HVAC system has proper regular filter maintenance; we recommend you change the HVAC filter every 1 to 3 months, depending on the type of filter. (This is a topic for a different post. You can always ask us during regular maintenance for our expert advice.)
The frequency of when you need duct cleaning varies based on a number of factors, and every home is different. Here are some of the factors affecting how rapidly dust and debris collects in ducts:
How long the fan runs
The number of children and pets in the home
Proximity to roads or industrial areas
Ductwork damage allowing extra debris inside
Duct Cleaning Is Important
But why do this at all? If it usually only needs to be done every five years to a decade, how vital can it be?
Just because something doesn't need to be done often doesn't mean it isn't important. Once ducts become heavily congested with dust, lint, etc., no matter how long it takes, it will have a drastic effect on the efficiency of the heater and air conditioner. Not only will costs to heat and cool a home start to rise, but there will be more dust blown around the house and the HVAC system will be in danger of suffering damage because of debris getting inside it. If you've never had your ducts cleaned and you've lived in your home for five years or more, it's a good time to look into whether you need duct cleaning.
Buyer Beware!
Here's something we need to bring up: beware of offers from companies for duct cleaning at suspiciously low prices. Unfortunately, high-pressure but low-quality "duct cleaning" is a common scam. Here's the important takeaway: not all duct cleaning companies are equal, and it's much better to rely on a company with a long history and focus on quality rather than trying to do something as cheap as possible. This is a situation where you definitely get what you pay for. When you have us handling your duct cleaning, you shouldn't need to have the job done again… for another 5 to 10 years.
If you're interested in scheduling duct cleaning in Clark, NJ or elsewhere in Central and Northern New Jersey, you can depend on us to do the job right. And if you have any concerns about whether it's time for duct cleaning, get in touch with us. We can answer all your questions and help you decide what you need to do with your ducts.
Air Creations, Inc. serves Central and Northern New Jersey. "We Do It Right!" since 1987.