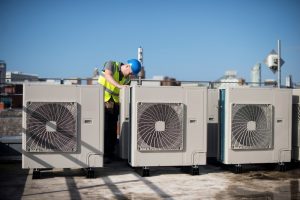 At Air Creations, Inc., we do much more than extensive work on residential air conditioning and heating systems. We're also experienced with providing HVAC services for small businesses in the area. Our technicians are NATE, EPA, and ACCA certified, and they stay current with new technologies and procedures for light commercial HVAC by attending regular industry and manufacturer training.
All our credentials, as well as our 30 years of history serving New Jersey businesses, is why you should arrange for your commercial air conditioning maintenance this spring with our team. We offer maintenance plans to make it easier to have all your business' comfort and environmental needs taken care each spring and fall. And we have 24/7 emergency service for when you need repairs to get your operations running once again.
Why Spring Commercial Maintenance Is Essential for Your Business
Any complex piece of mechanical equipment (as well as many simple pieces) starts to wear down as it operates. The more it runs, the more it wears down. The air conditioning system that handles creating a comfortable environment in your workplace, as well as safe conditions for much of the equipment you rely on from day to day, does an enormous amount of work during any summer in New Jersey, as well as other parts of the year. Unlike a residential AC, a commercial air conditioner works longer hours and must deal with more people and larger spaces.
Because a broken or malfunctioning commercial air conditioning system can mean a business unable to operate because of unhappy employees and tenants, customers who will go elsewhere, or machinery that can't function, it's vital that each spring you have your AC checked to make sure that it's prepare for the rigors ahead. This is what air conditioning maintenance does: technicians look over the system and all its components, from the rooftop units to the thermostats around the building, to find places where stress is creating potential problems. The technicians can then schedule the necessary repairs to have the problems addressed before they become actual problems.
Maintenance also tunes up a commercial AC: cleaning coils, lubricating motors, clearing condensate lines, recalibrating thermostats, and more. This prevents future malfunctions by reducing the strain on the system and improves the air conditioner's energy efficiency. You can end up paying up to 25% more to cool down your building if its AC misses out on regular tune-ups and adjustments. When you consider how much of your regular energy budget goes to powering the air conditioner, a 25% spike in costs will a huge negative affect on your bottom line!
Let Us Handle Your Light Commercial HVAC Maintenance
We are the people to contact when it's time for commercial HVAC maintenance in Cranford, NJ or other locations in Central and Northern New Jersey. You can sign up for one of our Air Creations, Inc. Comfort Plans and have your air conditioning and heating maintenance taken care of throughout the year; you'll receive other benefits as well. We work with commercial systems 25 tons and under throughout the area.
Air Creations, Inc. offers light commercial HVAC service in Central and Northern New Jersey: "We Do It Right—Since 1987!"