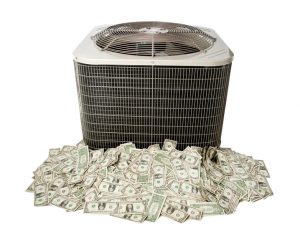 Nobody likes paying high bills for running their air conditioning system during the hot summer months. But homeowners assume that there's no way to avoid it: if they want comfort during a New Jersey summer, they'll have to pay for it.
While this is technically true—electricity doesn't come for free!—the chances are high that you have been paying more to run your AC than you should. There are a number of steps you can take to lower those costs for air conditioning in Mountainside, NJ, and we want to share some of the best with you. When you require professional service for air conditioning repair or to arrange for regular maintenance, simply get in contact with us and we'll be glad to help.
Unblock and clean air vent covers
Before the serious summer weather arrives, take a tour of your whole house to inspect the room vents. You may find some of them are blocked because of moved furniture; make sure they're clear so they won't create efficiency problems for the AC. We also recommend you use a hose attachment on a vacuum cleaner to remove dust and other debris that often gets onto the vent grills. This will further improve system efficiency.
Raise the thermostat
You don't need to put the thermostat at its lowest setting (often 60°F) to enjoy comfort. In fact, we strongly advise that you don't. The higher the thermostat temperature, the less often the AC's power-draining compressor will need to run. If you set the thermostat too low, the cold indoor temperature—which probably won't even be comfortable—will cause heat to move indoors faster, forcing even more work from the AC. We recommend finding a higher setting (above 70°F) and then raise the temperature one degree each day until the household acclimatizes to the higher setting. The U.S. Department of Energy recommends 78°F during the day when people are home, so make this your target temperature.
Clean up the area around the outdoor unit
The condenser unit of an air conditioner, i.e. the outdoor unit, must be unobstructed to allow it to properly exhaust the heat it removes from the indoors. If branches, twigs, leaves, and other debris are blocking the condenser, the AC's efficiency will suffer. Clear out the area around the condenser for about a foot, and trim back shrubs or other plants growing nearby.
Invest in a dehumidifier
"It's not so much the heat, it's the humidity." Wise words! High humidity, which is a frequent occurrence in New Jersey, makes it much harder for people to stay cool. The humidity is like a layer of insulation on your skin, making it harder for heat to escape. The heat remains trapped in your body, making the air feel hotter than it is. With the installation of a whole-house humidifier, everyone in your house will feel cooler on humid days, and the air conditioner won't need to run as often.
Regular professional maintenance
Finally, if you haven't arranged for annual spring maintenance for your AC, make sure to call us today and get on the schedule! Our Comfort Plan will help you save on energy all through the year.
Air Creations, Inc.: "We Do It Right" Since 1987.