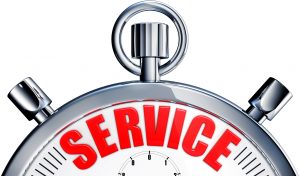 In the final days before the serious heat of summer arrives, you'll start to see advertisements from HVAC companies offering "Spring Tune-Up" SPECIALS!!!! These are common from larger companies, and … there's good reason to be feel cautious about them. In general, always feel cautious about multiple exclamation points.
We want to remind readers that spring maintenance is vital for any air conditioning system. Our New Jersey summers are hot and humid, and this puts immense pressure on ACs. Unless a cooling system receives full treatment from an HVAC professional to inspect, clean, and tune it up, it will be in danger of a malfunction and energy-inefficient performance. In the long term, neglect of maintenance will lead to a system that needs to be replaced years before it should. An air conditioner's warranty can also be voided because it misses annual maintenance.
But there's a difference between these "spring tune-up specials!!!!" one-time charges for AC maintenance, and signing up for routine maintenance through a program with a respected local HVAC company.
What "Spring Tune-Up Specials" Often Are
We understand that low-cost specials look attractive. When you see an ad for one you might think you can have your air conditioner's needs taken care of with one call—then you won't have to worry about it anymore.
But what often happens when you call for these one-time special services from big HVAC contractors is a technician visits your house, checks out the air conditioner, and inevitably finds something wrong with it. The technician then recommends unnecessary repairs because of a basic economic fact: contractors won't make money unless they can find a way to charge more than $59 or $69, which is the advertised "special." Trust us when we tell you it costs any legitimate company over $100 to send someone in a fully stocked truck to your house. You won't end up with the maintenance you need—only an expensive repair you don't need.
What Makes a Regular Maintenance Plan Different
With our maintenance plan, the Comfort Plan, you'll receive the tune-up and inspection that your air conditioning system really needs! (We're willing to an exclamation mark on it. A single one.) To just come to do our residential AC maintenance as a one-time only service call, which includes washing the condenser coil and providing a new standard-type 1-inch filter, we normally charge $199. But if you're a member of our Comfort Plan, the charge is only $137—and you receive priority service if a repair is needed, free diagnostic charges, and a 20% discount on any necessary repairs. Our technicians aren't there to find an excuse for a repair—they're there to ensure your air conditioner is ready to handle the summer.
The Comfort Plan also covers your heating system. In the fall, you'll receive the VIP treatment for your furnace or other heater to help protect your comfort during the winter.
We want you to have high quality air conditioning maintenance in Summit, NJ or the surrounding areas. Call us today to find out more about the details of our Comfort Plan and to sign up.
Air Creations, Inc. serves Central and Northern New Jersey. "We Do It Right" … Since 1987.