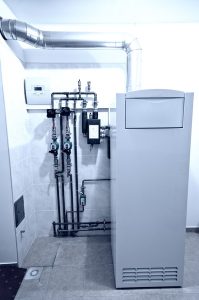 No appliance lasts forever, and when you consider how much strain a home's furnace undergoes during New Jersey winters, it's impressive they last as long as they do. If you keep up with maintenance for your furnace and always call for repairs as soon as you notice anything wrong, you should enjoy a long life from your natural gas furnace.
However, the next time you need a furnace repair in Summit, NJ or elsewhere in our service area, you might find yourself in a situation where a repair isn't the best solution—it's time to have the furnace replaced. Let's take a look at some of the cases where repairs should stop and a new installation arranged instead.
The Furnace Is More Than 15 Years Old
Some furnaces can make it to 20 years of service, but that's often for heating systems in parts of the country that don't experience intense cold winters. In New Jersey, you can expect a furnace—even with the best of regular maintenance—to be worn down at 15 years and already out of warranty. This is the point where the heating system is in greater danger of losing energy efficiency, increasing repair needs, and a possible sudden breakdown that will strand you without a working heater during the deeps on winter.
The Cost of the Repair Is Too High
You can rely on our technicians to be honest with you about the cost of the repair vs. the cost of a replacement. In general, a repair that will cost more than half the price of purchasing a new furnace is too expensive. The repair will only keep the furnace running for a short time, and then you'll have to replace it anyway. Also, if you've already had repairs done on the furnace this year, and the new repair will raise the cumulative cost to $500 or more, that's also too high a cost to keep an old furnace running.
The Technicians Think Safety Issues Are Developing
The safety of our customers is extremely important to us, and whenever we do repairs on natural gas furnaces, our technicians will make important safety checks. If your technician tells you that the furnace is worn down to the point where it could create hazards, it's definitely time to have a new one put in.
The Cost to Run the Furnace Has Risen
A well-maintained furnace should only lose around 5% of its heating efficiency over its service life, costing the same to run each year (accounting for rises in gas prices). When the furnace is in its final stages, that's when it begins to lose efficiency rapidly and start draining far more power to run. A technician will be able to tell you if repairs will make any difference in this decline. If there's no way to reverse the efficiency drop, it's time for a replacement.
You Want to Take Advantage of Better Technology
In some cases, a repair may do the job of fixing the furnace and keeping it running for a few more years, but you're ready for a change. A new high-efficiency furnace or one with a variable speed fan can make a significant difference for your home. Our technicians are glad to help you with making the choice for a better furnace.
Air Creations, Inc. serves Central and Northern New Jersey: "We Do It Right!" since 1987.